JE KUNT DEZE WERKVORM GEBRUIKEN OM...
…studenten onderling uitleg aan elkaar te laten geven of een mening te laten vormen.
KORTE BESCHRIJVING (wat is het?)
Studenten vormen koppels en geven elkaar uitleg over iets dat zij hebben voorbereid en stellen elkaar vragen over deze onderwerpen. Het kan ook gebruikt worden om een mening te vormen over één of meerdere onderwerpen. Na verloop van tijd kunnen er ook nieuwe duo's worden gevormd.
HOE KUN JE DEZE WERKVORM UITVOEREN (algemeen)?
Je verdeelt de studenten in duo's. Dit kan bijvoorbeeld door de ene helft van de groep een binnenkring te laten vormen vormen en de andere helft een buitenkring, zodat elke student tegenover een andere student komt te staan (of zitten).
Studenten in de binnenste kring worden bevraagd door studenten in de buitenste kring. Na verloop van tijd schuiven de studenten in de binnenste- of buitenste cirkel één plaats naar links of rechts, waardoor er nieuwe duo's worden gevormd.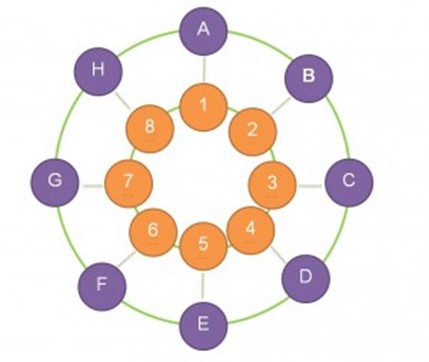 De vragen kunnen door de studenten zelf zijn voorbereid, of kunnen door de docent worden gegeven. Als studenten het vooraf voorbereiden zouden zij zelf de onderwerpen kunnen kiezen, of je wijst ze toe, of je laat het lot bepalen via een Random kiezer
Hoe meer de studenten vooraf hebben voorbereid, hoe meer diepgang je tijdens de les kunt creëren.
HOE KUN JE DEZE WERKVORM ONLINE UITVOEREN?
In zowel Blackboard Collaborate als MS Teams kun je gebruikmaken van breakout-groups (of 'rooms') waarbij telkens geautomatiseerd twee willekeurige studenten bij elkaar in een groepje worden gezet.
Let wel dat je maximaal 20 breakout-groepen in één sessie kunt maken in Blackboard Collaborate.
Met MS Teams zijn dit er 50.
ERVARING
Heb jij ervaring met deze werkvorm en wil je die graag delen? Neem
contact
met ons op!
KENMERKEN
GERELATEERDE APPLICATIES

BB Collaborate
Microsoft Teams