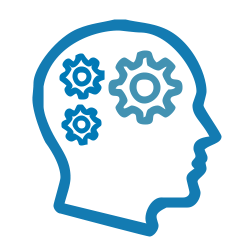 Kennisclips zijn korte video's van ongeveer 5 minuten waarin een specifiek onderwerp, een basisprincipe of een toelichting op een opgave wordt uitgelegd. Belangrijk hierbij is dat de kennisclip wordt geïntegreerd in het onderwijs en niet als losstaand multimedia item wordt toegevoegd. Kennisclips zijn dan ook altijd in de leeromgeving van studenten terug te vinden. Kennisclips kun je in het onderwijs op de volgende manieren inzetten:
Als je gedurende de contactmomenten meer wilt richten op het toepassen van kennis, dan zijn kennisclips geschikte middelen om op die wijze de primaire kennisoverdracht via de digitale leeromgeving plaats te laten vinden.

Indien je merkt dat studenten moeite hebben met een bepaald onderwerp dan zijn kennisclips geschikt om veel voorkomende vragen van studenten te beantwoorden.

Bij het maken van het huiswerk, bieden kennisclips de student de vrijheid om de lesstof in het eigen tempo eigen te maken van moeilijke leerinhouden.

Indien je als opleiding merkt dat de basiskennis voor bepaalde modulen onvoldoende is of ontbreekt doordat deze over de tijd heen is weggezakt, dan kunnen kennisclips remediërend zijn om deze voorwaardelijke kennis weer op niveau te brengen.
Toepassingsmogelijkheden
Met behulp van Kaltura Capture kun je zelf video's opnemen en online beschikbaar stellen. Hierbij maak je eventueel gebruik van een webcam en van het delen van je scherm. De meest laagdrempelige manier om een kennisclip te maken is door gebruik te maken van een al bestaande PowerPoint presentatie. Je hebt vervolgens na de opname nog de mogelijkheid om beperkte bewerkingen toe te passen. De opgenomen video's komen vervolgens eerst in MyMedia te staan van waaruit je deze kunt plaatsen in een cursus naar keuze. Kijk op video.saxion.nl/aandeslag voor een DIY met Kaltura en tips voor het maken van onderwijsvideos.
Met de tool Vibby kun je van YouTube video's bepaalde fragmenten 'highlighten'. Daardoor kun je van een video van bijvoorbeeld 25 minuten, de minuten selecteren die volgens jou belangrijk zijn. Bij deze gekozen minuten kun je ook opmerkingen toevoegen waar studenten bijvoorbeeld extra op moeten letten. Studenten kunnen vervolgens kiezen voor het bekijken van alleen deze fragmenten of het gehele originele fragment.
Sommige onderwerpen lenen zich beter voor animatievideo's. Tools zoals Powtoon, Biteable of Moovly bieden laagdrempelige manieren om eenvoudig zelf een animatievideo te maken.
APPLICATIES
KENMERKEN