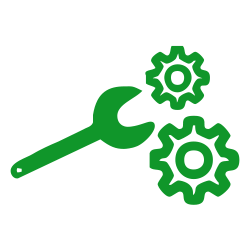 De kennistoets bestaande uit gesloten vragen wordt vaak ingezet om de kennisaspecten te kunnen toetsen. Met een kennistoets met gesloten vragen is het mogelijk om reproductiekennis, inzicht en passieve toepassingsvragen te stellen. Vaak blijft het in de formulering van de vragen beperkt tot het bevragen van reproductiekennis, aangezien dit soort vragen het gemakkelijkste te construeren is. Juist de overige genoemde vraagsoorten bieden kansen om kennis van studenten te bevragen op meer inzichtniveau. Dit laatste is wenselijk, aangezien deze diepere lagen van kennis de soort kennis is dat studenten in de praktijk ook moeten gaan gebruiken.
Er zijn verschillende varianten op de hierboven beschreven kennistoets, namelijk:
Multiple Choice toets
Juist/onjuist vragen
Stellingvragen
De multiple choice toets is een toetsvorm die in verschillende varianten kan worden toegepast. Zo kan de keuze gemaakt worden door in het aantal alternatieven dat aangeboden wordt te varieren, of door één of meerdere antwoorden als de juiste te bestempelen. Vaak wordt er gebruik gemaakt van een multiple choice vraag waarin drie of vier alternatieven worden beschreven. Het aantal alternatieven dat gebruikt wordt, beinvloedt de gokkans behorende bij de vraag. Een aantal alternatieven dat hoger ligt dan vier is niet aan te bevelen, aangezien het steeds lastiger wordt om plausibele alternatieven te bedenken. De juist/onjuist vraag is alleen goed toepasbaar wanneer de stellingen die gebruikt worden ook daadwerkelijk volledig fout of volledig goed zijn. Het is dus niet aan te bevelen om juist/onjuist vragen in te zetten wanneer experts geen consensus hebben bereikt over het eindantwoord.
Een andere variant die regelmatig wordt toegepast is de stellingvraag, waarin studenten moeten aangeven welke stelling de juiste is, waarbij ook beide stellingen juist of onjuist kunnen zijn. Deze variant is niet wenselijk om in te zetten, aangezien in feite twee vragen in één gesteld worden wat niet bevorderlijk is voor de kwaliteit van de vraag.
De kennistoets bestaande uit gesloten vragen kan in al zijn mogelijke verschijningsvormen zowel formatief als summatief worden toegepast. Voordeel van de gesloten vragen is dat de student direct feedback kan ontvangen op zijn gegegeven antwoorden.
Bron: Van Berkel, H., Bax, A., Joosten-ten Brinke, D. (2014). Toetsen in het hoger onderwijs (3e druk). Houten: Bohn Stafleu van Loghum.
VARIATIEMOGELIJKHEID
Een kennistoets kun je ook met open vragen aanbieden. Te denken valt aan de vraagsoorten:
In- en aanvulvragen
Korte- antwoordvragen
Lange-antwoordvragen
Opstelvragen
APPLICATIES
Surpass
KENMERKEN