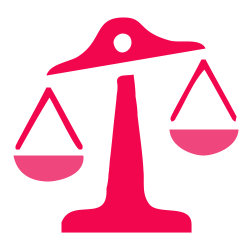 Deze werkvorm is in te zetten bij reflectieopdrachten en het uitwisselen van praktijkervaringen. Studenten brengen allemaal een ervaring mee vanuit de praktijk.
De ene helft gaat aan een tafeltje zitten. De andere helft van de groep start elk bij een andere tafel. Zij stellen aan hun medestudent die tegenover hen zit enkele vragen. Zo ontstaat er een gesprek waarbij de ene student de vragen stelt en het verhaal van de ander aanhoort en de andere student zijn of haar ervaringen vertelt. Daag de studenten uit door te vragen en kritische vragen te stellen.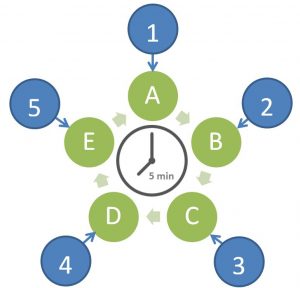 Na 5 minuten laat je de groep studenten die de vragen stelde doordraaien naar het volgende tafeltje. Student 1 die in de eerste ronde bij student A zat draait door naar student B, student 2 draait door naar C etc. Zorg in elk geval dat je een vaste opstelling hebt zodat duidelijk is naar wie elke student in de volgende ronde moet doordraaien. Elke ronde moet kort duren om de vaart erin te houden; je zou ongeveer 5 minuten kunnen aanhouden. Op het scherm zou je een digitale klok kunnen tonen die telkens afloopt zodat duidelijk is hoeveel tijd er beschikbaar is. Doorloop een aantal ronden. Na afloop kun je de studenten die hun verhaal gedaan hebben laten reflecteren. Hebben ze dieper over de materie nagedacht doordat hun medestudenten vragen gesteld hebben?
VARIATIEMOGELIJKHEDEN
Je zou op deze wijze allerlei gesprekstechnieken, reflectietechnieken e.d. kunnen toepassen. Of stage ervaringen kunnen laten uitwisselen.
KENMERKEN