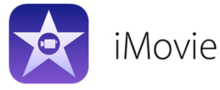 iMovie is een app van Apple waarmee je video's kan maken en bewerken. De app is het best te gebruiken op een MacBook maar kan eventueel ook via een iPad worden gebruikt. Met het programma kan je als docent of student video's maken aan de hand van video materiaal of foto's, geluid toevoegen, gebruik maken van overgangen, dia's, etc. Op een redelijk eenvoudige manier kan je snel een goede video in elkaar zetten, maar je kan ook gebruik maken van de meer geavanceerde mogelijkheden en het zo precies inrichten naar jouw keuze.
WEBSITE
iMovie
VOORDELEN
eenvoudig
ook geavanceerde opties mogelijk
NADELEN
Apple apparaat en Apple ID nodig
EXTERN ACCOUNT
Het werkt alleen op Apple apparaten en er is een Apple ID voor nodig.
Let op!
Dit is een applicatie waarmee je instelling mogelijk een contract of licentieovereenkomst moet hebben afgesloten.

Zie AVG voor meer informatie
VERWANTE APPLICATIES