Dotstorming is een tool waarmee je met een groep kan brainstormen over een onderwerp.  Je kan dit bijvoorbeeld inzetten om studenten samen te laten brainstormen of antwoord te geven op een bepaalde vraag. Op een gezamenlijk prikbord voeg je met een 'card' je idee toe door middel van tekst, een afbeelding of een YouTube video. Vervolgens kun je stemmen op ideeën of commentaren geven. Hierdoor ontstaat een ranking. Ook is er een chatfunctie beschikbaar. Met een gratis account kan je maximaal 5 borden maken. De tool is makkelijk te delen via een link en er bestaat een mogelijkheid tot insluiten.
WEBSITE
Dotstorming
VIDEO
VOORDELEN
eenvoudig
invoegen van tekst, foto, video en chat mogelijk
interactief karakter
studenten hoeven niet in te loggen
embedden in Blackboard mogelijk
NADELEN
maximaal 5 prikborden (bij gratis account)
EXTERN ACCOUNT
Let op!
Dit is een applicatie waarmee je instelling mogelijk een contract of licentieovereenkomst moet hebben afgesloten.

Zie AVG voor meer informatie
VERWANTE APPLICATIES

Poll Everywhere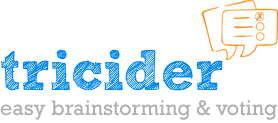 Tricider